Somewhere in that droopy-eyed no-man's land between the dead of night and dawn, I would look up, past the spinning discs, to the digital clock on the wall. On cue, I'd leap up enthusiastically, bound out of the control room, down the hall past creative and engineering to the newsroom, where, if I timed it just right, the fax machine would be spitting out essential reading on the broadcast industry. Suddenly I was not alone while all my colleagues slept, I was transformed instantly, immersed in an entire community of cosmopolitan people with fast paced careers in far-flung places making big moves and leading exciting lives.
As the night guy, I was the first person in the station every Thursday to lay my eyes on Howard Christensen's new publication for the Canadian industry – Broadcast Dialogue.
Half a continent away, somewhere in the concrete canyons of the big smoke, Howard Christensen was likely taking a brief pause, knowing that in a few hours he would begin the weekly gathering, reporting, writing, and producing cycle all over again.
And so it was for 24 years. Save for bi-annual breaks and one family emergency, Broadcast Dialogue never failed to arrive in inboxes and mailboxes of broadcasters across the country. On several occasions, Howard and Ingrid (who joined in the family business along the way) even managed to publish Broadcast Dialogue from cruise ships despite spotty internet connections.
Whatever it took, they kept the industry connected and informed. Almost 25 years later came the announcement of their retirement and an outpouring of accolades and well wishes followed from loyal subscribers.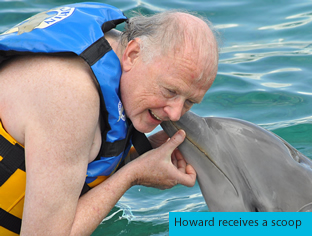 Toronto born and bred, Howard made his world debut during one of the worst snowstorms in the city's history. His father needed to shovel their street all the way to a major intersection so that he could take his mother to the streetcar since no cabs were running. Taxis couldn't get out and the snow was up to the streetcar windows.
Growing up in the vicinity of Yonge and St. Clair, Howard remembers fondly venturing three blocks south to the CHUM building at 1331 Yonge, pressing his nose against the glass and exclaiming, "Wow! Really Cool." Of course he would have no way of knowing that he would later work in those very hallowed halls of 1050 CHUM Toronto.
In fact, it wasn't until age 24 that Howard felt compelled to respond to a job ad in the Toronto Star, which earned him his first exposure to broadcasting in the sales arena. But it wasn't long before hanging out with the news guys made him realize that he should be working in the newsroom instead. Their sense of gallows humour and way of sizing up the world appealed to Howard. He had found his calling and was on his way.
During his career, Howard worked at CHAM Hamilton, CKJD Sarnia, and CHYM Kitchener. For 9 months during Howard's gig at CHYM, he did overnights at CHUM Toronto on weekends but never made the on-air mistake of confusing the two. Later, he moved to CFRB Toronto, CJAD Montreal, and CKVR-TV Barrie.
Howard joined Broadcast News in Toronto in 1977 as a reporter/editor. When network newscasts were launched, Howard was one of the six original newscasters who helped take BN into a new era of Canadian news audio delivery.
Howard took every excuse to have fun on the job. During the talk-up to BN (now Canadian Press) newscasts – when there was a double-tone to indicate 10 seconds before the newscast began – he'd often start-up the network about a minute early and just talk for 40 seconds or so to whoever was out there. One time, on Grey Cup night, he bet a dollar that the east would win and that if anyone wanted in on the action to call him at BN after the newscast. He got quite a few calls, too. As it turned out, the east lost so he had to write quite a few cheques. Doing his bookkeeping about a month later, there was still a $1 cheque that hadn't been cashed so he called the guy. The Alberta broadcaster said, "Are you kidding? A cheque from Howard Christensen? I couldn't cash it. I framed it!" The other guys must have needed the dollar.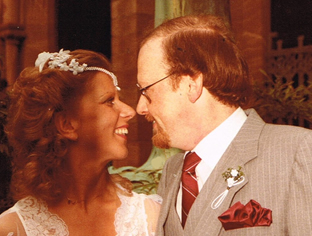 In 1981, then BN GM Bob Trimbee made Howard an executive assistant, and later promoted him to general executive. He had responsibility for Eastern Canada while Jerry Fairbridge was General Executive – Western Canada. Their respective areas of responsibility were defined by the Ontario/Manitoba border. It was during this time that Howard visited in-person the many stations and people that would later form his readership base.
Howard married Ingrid in 1984, whom he met while she was still living in her native Germany. She was introduced to Toronto radio listeners when Howard and his friend, the late Tom Rivers, then doing mornings at CFTR, made her a victim of his feature, The Call of the Day. Tom pretended to be from Immigration Canada and told Ingrid during a transatlantic telephone call that Howard's third divorce hadn't been finalized yet. Of course, he had never been married before. Hilarity ensued. And thus began a romantic and (later on) business partnership that has lasted 32 years.
Howard launched Broadcast Dialogue in 1992 as a weekly faxed newsletter and signed up his peers to subscriptions one-by-one, achieving a critical mass of readers surprisingly quickly. In 1998, Howard and his former colleague from his BN days, Barry Hamelin, began with a clean sheet and created the magazine. In January 2013, anticipating tectonic changes within the industry, Howard combined both iterations of Broadcast Dialogue into one weekly e-publication.
In the meantime, Ingrid joined the business playing the role of producer, to which she brought an extraordinary level of focus, organization, determination, and passion. Howard was the reporter and writer, applying his talent for spotting the story and communicating it with precision and brevity. Their complimentary working dynamic allowed them to collaborate, yet engage in spirited discussions on occasion about which stories should make the final cut and find a place in the Weekly Briefing. Ingrid proved incredibly proactive and efficient in tracking people moves within the industry and keeping subscriber information up-to-date, by every means available (including but not limited to stalking). The result is perhaps the industry's most accurate, up-to-date subscriber and supplier database.
Together, Howard and Ingrid earned the recognition of their peers, with prestigious awards from the Central Canada Broadcast Engineers (CCBE), the Western Association of Broadcast Engineers (WABE), the Atlantic Association of Broadcasters (AAB), the Ontario Association of Broadcasters (OAB), the Western Association of Broadcasters (WAB), the British Columbia Association of Broadcasters (BCAB) and the Radio-Television Digital News Association (RTDNA), to name a few.
A consummate newsman, Howard is serious when he has to be but also loves to socialize and have fun – a fact to which everyone who has spent time with him at industry events will attest. Ingrid, as ever, is his high spirited and fun loving bookend. Fun promises to be a central theme to their "quasi" retirement, when time permits of course.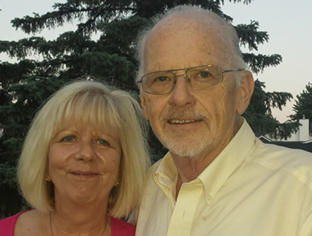 Howard and Ingrid published their last issue of the Weekly Briefing on June 30, 2016.
And true to their commitment to us all, they have and will continue to mentor the team that will carry their work forward.
Their legacy is one of passion, credibility, integrity, and trust. But most of all they fostered a sense of connectedness in the industry with every issue.
Thank you Howard and Ingrid for connecting Canada's media and creating an amazing platform for what's next. We go forward because of you. Somewhere out there, there's an aspiring young broadcaster sitting in the dark who is depending on it.
Let the dialogue begin… anew.