Don't wait to read today's industry moves. Subscribe to The Weekly Briefing now and receive the latest Revolving Door updates every Thursday. It's free, here.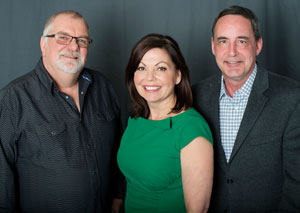 Doug Veronelly is retiring from his morning host role with The Odd Squad on Calgary's Country 105 (CKRY-FM). Veronelly started in pop radio in the 1970s before making the move to country where he's played a vital role in the Calgary country music scene for the past 24 years. A special interactive Farewell Doug program will be announced soon.
Wayne Williams has become PD for Corus stations Fresh 95.3 (CING-FM) and Y108 (CJXY-FM) Hamilton. Williams' career stops include PD at Flow 93.5 FM (CFXJ-FM) Toronto and G98.7 (CKFG-FM) Toronto.
Monique Marcotte, the executive director, strategy & planning, people and culture at CBC/Radio Canada, has been elevated to VP of people and culture effective Sept 2. She succeeds Josée Girard who is returning to a previous employer. Marcotte has been with CBC for the last 25 years.
Patrick Jutras has been named VP of sales at La Presse, the Quebec news company. Jutras had been promoted in January 2014 to SVP, Sales, Quebec, leading the integrated Bell Media sales teams in Quebec. Prior to this appointment he had been VP, sales and marketing at RDS. Jutras' first day at La Presse is September 12.
Jeff Moffatt, ex of Eastlink in Halifax, is a new broadcast engineer at Bell Media Halifax.
Connie Thiessen is no longer with MBS Radio in Halifax where she'd been anchoring afternoon news for the chain since 2015. Thiessen is the new Marketing Communications Coordinator with the Atlantic Film Festival. Previous career stops include Q-104 (CFRQ-FM) in Halifax, as well as CKNW AM 980 and News1130 (CKWX) in Vancouver.
As a result of eight-year Trent Radio (CFFF-FM) Peterborough PD James Kerr's decision to leave the station, Community Outreach Development Manager Mauricio Interiano is spearheading a restructuring process soliciting input from stakeholders with the financial support of the Community Radio Fund of Canada.
Penny Cartwright is back at 99.3 The Drive (CKDV-FM), 101.3 The River (CKKN-FM) and CKPG-TV Prince George as promotions director after a two-year industry hiatus. Before leaving JPBG, she'd been a 10-year employee in various roles, four years of which were as promotions director.
Morning co-host Robin Farrell and KOOL-FM 107.3 (CHBE-FM) Victoria have parted ways. Farrell was at the Bell Media station for 11 years and was previously at Vancouver's Xfm 104.9 (CKVX-FM) and then News1130 (CKWX) until 2004.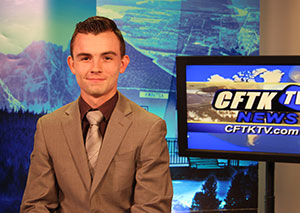 Tyson Fedor joined Bell Media's CFTK-TV on Aug. 8 as Terrace/Kitimat reporter and host of Week In Review. He was born in Preston, England before growing up in Okotoks, AB, where he spent two and a half years in local radio. Fedor attended BCIT's Broadcast and Online Journalism program, graduating in May 2015 with a recent stop at 96.1 The Rush (CKRW-FM) Whitehorse, YK as a local news reporter.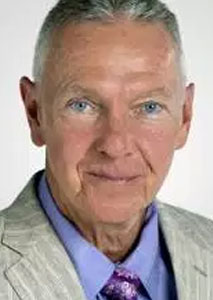 John Daly's final newscast after 30 years at Global News BC (formerly BCTV News), was August 31. Daly announced earlier this summer he was leaving. Daly won the first Jack Webster Award in 1987, for the best reporting of the year, in any medium. After the broadcast, staff feted Daly at Mahoney's in False Creek, Vancouver.
Charles Osgood, 83, after almost 50 years at CBS, will step down from hosting duties at the network's Sunday Morning show, a position he's held for 22 years. He will, however, do occasional appearances and continue his The Osgood File on CBS Radio. A successor has yet to be determined.